Every day laundry is being done by hand all over the world. Some use tubs, buckets, rivers, stones, kitchen sinks, bathtubs, shower stalls, or outdoor wash areas.
Depending on where you live, laundry is being dried many different ways.
If you have come to this page, either you are just curious or you really do need to know how to wash and dry your clothing without an electric washer and dryer.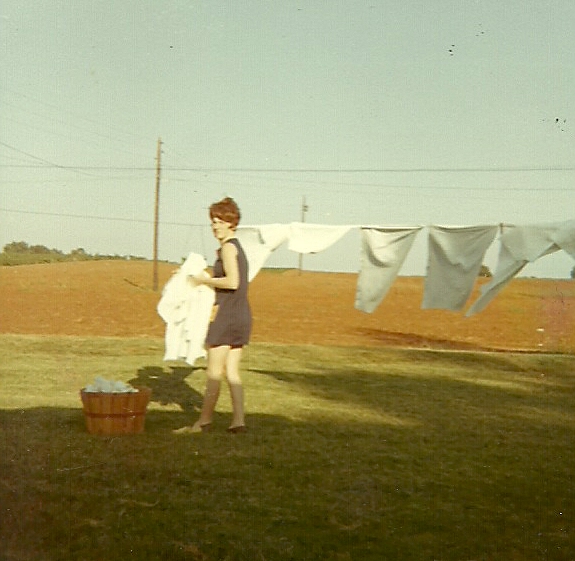 This is me during the 1960's, I knew all about handwashing clothes back then. I had a husband, a baby and we did have electricity but no money for a washer and dryer. Even if we did, the house we lived in was not plumbed for a washer much less a dryer. But what we did have was running water, sun and wind.
Either way, you have some dirty clothes and they need washing. I am going to show you a few different methods. For light washing I will use socks. Wash the socks by soaping them up rubbing them back and forth and squeezing out the soapy water. Then rinse them in a separate tub of water. (For heavy washing or sanitizing boiling the socks and other items after washing would help to remove germs)
We live in the deep south and many days it is very humid. If you need to speed up the drying, then you need to squeeze as much water out of the clothing as you can so it can dry before it sours.
Lay the socks on a rag, if this was a shirt or pants you would use a towel. Many days you can simply hang the clothing out to dry without doing this.
Roll cloth with the socks inside
Now twist. I could not wring this and take a picture but I hope you get the idea.
Now unwrap the towel and your socks have been blotted dry. After many pairs of socks your rag will need hand wringing but it will still soak up water from your clothing.
A pair of pajamas
Rinse well
Roll in a towel
Twist the towel
Hang the pajamas and the towel
Many times I hang my clothes in the house at night and by morning they are almost dry. I either move them outdoors after daylight or leave them hanging inside until they are dry.
Now for the heavy items.
My opinion: Depending on where you live you have to become creative how to tackle laundry when you wash by hand. Many things can be washed in buckets, washtubs and sinks but bathtubs are difficult. I have a outdoor table in a graveled area, two buckets, two inexpensive clamps a scrub brush, soap and a flat pan for the larger and heavy clothes.
My husband wears overalls quite often when he is home working around the house and he gets very dirty. I first soak the overalls in lye soap that I buy either at cracker barrel or order online from lyesoap.com that is also known as stewarts crafts. I found them online one day and decided to try their soap and I like the soap and their fast delivery. I also like the lye soap from cracker barrel and Ace Hardware also carries lye soap. I also use kirks castile soap that is made from vegetable base. Anyway, soak them in some kind of laundry soap that is non toxic to the environment.
Swish them around a good bit, rub and swish, then....
On the real dirty places soap it up and scrub with a brush.
Pour some of the soapy water from the bucket occasionally and rub some more.
I cannot tell you an easy way to do this, just think of it as good exercise.
Now roll up the item and squeeze some of the soapy water out and pour fresh water over and squeeze again.
Now that you squeezed some of the soapy water out of the overalls, put the overalls or your heavy item in a bucket of clean water to rinse.
At this point I want to mention some items such as diapers, dish cloths, cheese cloths, handkerchiefs etc could be boiled in a large metal pot for disinfecting.
Our ancestors knew to do this for sanitizing clothing. When you see vintage pictures of people boiling clothes over a big iron pot and standing there stirring it looks overwhelming but they had to do this because they got very dirty and wore their clothes for many days before washing. Boiling their clothes is the way they sanitized their clothes. The reason they stood there and stirred is because when you boil clothes the boiling bubbles the clothes up to the top of the water.
Now that you have rinsed well, there are two ways to do this. If you have someone to help,the two of you twist the item to squeeze out the water. If this is bed sheets you do the same, two people wringing is better than one but if you dont, place two clamps on the top of your item and.......
Twist the water out. The clamps are very inexpensive and very handy.
Now hang to dry and rest a bit :)
We actually have a hand wringer that we saved up for and bought from Lehmans online. They cost quite a bit but worth it. However saying this, large items are still difficult to wring out even with a hand wringer. The best thing is to wash the heavy items early in the day so they have all day to dry. This wringer was silver but it was rusting in places so I spray painted it white. I prefer it being white because it gives it a softer feel.
With the hand wringer you have to be careful and guide the buttons through flat or they could break.
We have an old chair that we picked up on the side of the road that someone had put out for the trash. I painted it then we added a board to the arm to use to lock the hand roller on. I place the bucket that has the clothes that need wringing on the seat and one on the ground on the other side to catch the garment coming out of the roller. You can attach the wringer to a washtub if it is square or the correct size but we don't have one and this works just fine.
A few tips on using lye soap. I was using grated lye soap here and this is what happens when you don't dissolve it well in very hot water. I was using hot water but not hot enough to dissolve it completely so it clumped up. Years ago people would boil their wash water to dissolve the lye soap and because their clothes were very dirty. I normally take the time to pour boiling or very hot water in a pan over the lye soap and stir it around making sure it is dissolved.
When handwashing clothes use a scrub brush and brush over the collar area as well as under the arms and extra dirty areas.
You can get white socks much cleaner by brush scrubbing them
I am using a flat pan that I use on top of my outdoor table so the water pools up a bit.
We get real dirty around our house since we garden and work on so many projects. Picture is just to show you how nice and clean lye soap and a scrub brush will clean. Again if you have the time and ability a good boiling would help to clean these socks after this scrubbing.
Years ago people seemed to have more people around to help with chores. Today there are not as many families that have someone around to help so we have to be more creative. If you are camping and have a picnic table around and you need to wash clothes this is a good way to do the wash. It is easier for me to wash standing up with it table height. Some people are limber and can squat down close to a pan on the ground. Whatever works for you is what works.
So this is where I wash, rinse and hand wring with clamps.
This is where I put the clothes through the wringer and the black flat pan is the pan I use to place on top of the table pictured above.
This is where I hang some things because we have a lot of trees, I also have another line under the carport and inside the house and around this wash area.
Most likely if you have access to a computer to view this webpage you may be here because your washer and or dryer broke, possibly you just got married or just moved away from home for the first time and you don't have a washer and dryer. Maybe that you are thinking of living off the grid or you are already off the grid. Then there are those like us that are trying anyway we can to save money. Chances are you don't happen to have a river near by or a large rock or a washtub and scrub board. If not just use your kitchen sink, bathtub, shower stall or buckets. It will take a lot of work but it can be done.
MY TIP: Once you are caught up, handwash ever single day because that way you won't have much to wash. If it is raining outside then hang them on lines inside the house or apartment.
I have small white hooks that are hardly seen on some of my doorways. Every room in my house has these and I have a line that fits the distance that I keep in a drawer in every room. At night I wash out things used that day and hang them before I go to bed. I only wash the large items outside. We are fortunate and have a washer and dryer and can use it when we need to but I like to save where we can and use little as we need. I also like to stay prepared for an emergency or a time when the washer or dryer has gone out like it has before.
If you like please read on, I do have an opinion on things I would like to share my thoughts.
Grandma Donnaís Serious talk about laundry. I am on my soap box today!
Each person has their own laundry needs.
Some have a lot of laundry due to a large family or jobs that can really mess up your clothes and then there are those that live alone or small families and only have minimal laundry. But no matter what the situation there are clothes, towels and bedding to wash.
Around the world millions of people (right now) live without washing machines. There are those that live in undeveloped countries that live without even basic needs and those that live in developed countries that continue to live basic. In the United States it is now more common to have an automatic washing machine or live close to a Laundromat than not.
It really has not been that long ago that the automatic washing machine was invented and it took many years before households were able to plum in lines and electricity for a automatic washing machine. When my Grandmother got a round automatic washing machine she kept a cover over it and it stood in her back yard. It had a automatic wringer on top and we would have to be careful to not get our fingers in between the rubber rolling pins.. Before the automatic one we used a hand cranked wringer. I loved the smell of the soap swishing around in the washer and the aroma seemed to float in outside air.

When I married it was many years before we were able to afford a washing machine. I hand washed clothes in a tub or in the kitchen sink. I would take the clothes to the Laundromat if we had the money and when they piled up but there was not a laundrymat close by so I did not go often. It was common to hand wash baby diapers during that time, that was simply how we did things. First you swish the diaper in the toilet to remove the urine and poop and then soak them in a pail. When it was time to wash the diapers you soaked them in hot water and soap for awhile then wash/scrub the diapers, rinse them well, wring them out and hang them on the line. We used bleach back then without concern but these days some people have concern with using bleach and if you don't use bleach then you should consider boiling the diapers after washing, rinsing, boiling rinsing again. Sounds like a lot of work but if you are use to working hard it is just part of what must be done.
Now days young people go in great debt to set up a household and that is not the thing to do. You have to get things slowly. It is not the end of the world to not have all the latest gadgets. In many ways we are better off without them.
Now I am a Grandmother and the cost of utilities and everything else is getting terribly high. If the washer and dryer stopped working the cost of replacement would be difficult. When you add expenses together such as house payment/rent, utilities, food, insurance, medical bills, telephone, cable etc times are difficult. I donít know how some manage unless they are so in debt that they are setting themselves up for a financial crash. Let me say this, There is nothing wrong with doing things the old way, if that is how you make it affordable that is how you do it.
When I go out to run errands I see many large houses with new model cars parked in their driveway. People wearing name brand designer clothing, ladies getting their nails done, children carrying cell phones and I wonder, how? How are these people doing this? Everyone cannot be a Doctor a Lawyer or a CEO. I know that many of these people must be living beyond their means. I have to say this, just because you may make a large income does not mean you go out and buy a big house and fancy things. If you do this, you have to continue to make that large income for years and years. What happens if that income declines due to a sickness or accident or job loss? Then what? I am not perfect by any means, we are middle class and we have made mistakes. I wish we had come to realize what we know now earlier in life so we could have saved more. My aging Father was on hospice and living with us in our home and just days before my Father died he looked at me and asked me a question that I will never forget, he said "How did I get here so fast?" That is why I am telling you this now. If you are reading this and you are young, please hear what I am saying. Time goes by very fast and life is full of so many changes. We don't need all the junk in our life, we need our health and we need love. Big houses, fancy cars and name brand items can smother you. Less is better, simple is good. While we are all here, we should take care of our bodies and or environment. Take only what we need and put back what we can so others after us can do the same.

There are generations living now that have always lived in a developed country and always had a washing machine and know of nothing else. These people simply live on automatic and think nothing of tossing the clothes into the washer, pouring in the laundry soap and pushing the buttons. Many have never seen a clothes line much less laundry flapping in the breeze on a clothes line. They probably have two or three televisions, play stations and who knows what else going at the same time the clothes are washing and drying. Then they are shocked at the utility bill when it comes in. These people have no clue what to do if the washer or dryer breaks down so they simply go to the store and purchase another one, most likely charge it, but many cannot afford to replace it. Those that cannot replace it find that the cost of coin operated Laundromat has become almost unaffordable. Only then does one realize that they have no knowledge of how their generations before them lived without modern appliances and that they now are like billions of others that must or wish to hand wash all their laundry.
I feel that my generation has let the young generations down by buying and charging as we advanced into the 2000ís era. We set a very bad example and I hope that we can do something to fix it. Laundry is the topic but I am talking about so much more.
I hope by putting up this page I can help others to get back on track of doing the more affordable things. There is a movement going on towards less grid, off the grid and a more simple life. Right now my husband and I cannot afford to go off the grid, doing so would require solar. Totally off grid, no solar would require land and proper tools. So we, like many need to do what we can right where we are. It is called unplugging and use only what we need.
My husband and I are very fortunate to have a washer and dryer. But we like many are trying to find ways to save money and be more conservative. We need to save even more than ever because we are getting older and something is starting to feel different in our security these days. I simply feel we should be better prepared.
When I hand wash our clothes I feel connected to my Grandparents and Great Grandparents. I somehow feel that I am keeping the tradition and doing what they did but my degenerative spine is not as cooperative. I have had to create my own method of washing clothes and trying to save on utilities. I hope this page has helped you find what you are looking for. Please stay awhile if you like to read many other articles that I have about cooking from scratch to living like the past. I share other things such as pictures of our pets and gardening pages. Come back often, I am always adding new things.